Review of Tinder for Transgender Personals

Tinder might be one of the biggest hookup platforms globally, but how does it rate for transgender singles? Our review analyses what the site can offer and how suitable the app is for Transgender Personals.
Members
One of the largest worldwide dating apps
Inclusive of all sexualities
Created for a mobile app rather than desktop
Creates matches based on location
Mainly used by people aged 21-35 so a broad spectrum of ages
One of the bonuses for users is that you will find millions of people, across all genders and sexualities.
Sign-Up & Login Process
To create a login, you will need to provide a Facebook login, a Google login, or your mobile number. When you have provided those details, you need to enter some simple information:
Name
Date of birth
Gender
Location
Profile picture
Our Tinder.com review found that particularly within the transgender dating community, there have been many problems with abusive messages and fake profiles targeting non-binary singles.
Free Account on Tinder
The app is free to download, and you won't need to pay anything to create a page.
Free services include:
Left swiping
Finding users nearby
Sending a super like once per day
Upgraded services include:
Seeing who has liked your profile
Instant matches
Right swiping
Connecting with users around the world
Removing ads
Profile Quality
During our review, we found that profiles vary wildly in their quality – the app itself works well, and there is plenty of space for information. Don't forget that if you would like to meet genuine transgender people, it is better to include more information to find a compatible match:
Upload more than one photo
Include pictures of different aspects of your life
Choose a genuine photo
Don't upload explicit or nude photos
Search
Tinder doesn't really offer a search option, so there are limited ways to filter who you are looking for. This makes it less than ideal for TG dates since there is no way to filter further who you'd like to match with. The app is all based around the location, so if there isn't a trans community in your area, you might find yourself with very few matches to choose from.
One of the reasons TG dating doesn't work as well as it could is that matches are purely image-based – so you swipe either direction without going into any further detail.
Safety
Tinder is renowned for fake profiles because anybody can create a page for free, none of the information is verified, and it is, therefore, an easy target for spam activity.
Disregard profiles without any bio
Never click on a link anybody sends you
Report bots
Block and report spam messages
Do not share any private information
Design
The Tinder app is well designed, but it's a unique layout so it can take a bit of time to work out where things are and what the icons stand for. Swiping is simple, although it is easy to make a mistake – if you swipe left on somebody you'd like to chat with, you can rewind your matches. The app integrates with social media, and some users enjoy this feature while others would prefer to keep their date life private.
Costs of Tinder
There are two different types of subscriptions, Gold and Plus.
Tinder Gold
6-month
$52.99 – $8.83/month
$112.99 – $18.83/month
12-month
$82.99 – $6.92/month
$149.99 – $12.50/month
Tinder Plus
6-month
$34.99 – $5.83/month
$60.00 – $10/month
12-month
$54.99 – $4.48/month
$80 – $6.67/month
Tinder is appealing to a younger audience by offering a significant discount for subscribers under 28. However, this makes it less attractive for anybody over this age.
Customer Service
If you need help from Tinder, the best way to get hold of them is to raise a support request.
Pitfalls
There are a few pitfalls to the app, particularly for trans dates:
There are lots of spam accounts given how easy it is to register.
Matches are based solely on appearance
Reports of abusive behavior and unsolicited messages aimed at trans users
Our Tinder.com Review
Tinder is a great app when it comes to fast hookups and local dating for younger people. However, we were put off by the doubling of the subscription price for users 28 and over. It is fantastic to have such a wide choice of gender identities. Still, the reports of abusive behavior are a real turn off, and it seems that admin doesn't have much control to protect the safety of TG daters. For more suitable date sites to meet transgender singles, check out our Best Sites listing, where you can find ideal options.
Pros / Cons
Extensive membership
Easy to use mobile app
Free to download
Quick swipe left or right
Location-based suggestions
Inclusive gender identities
Worldwide membership
A high volume of fake subscribers
Lack of security
Doubling of subscription costs for people 28 and above
No meaningful compatibility
No search function
Try OneNightFriend.com for Transgender Dating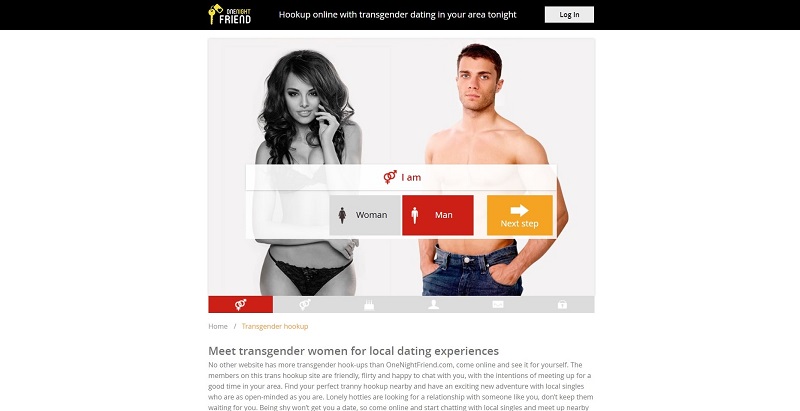 Frequently Asked Questions
Is Tinder.com Good for Meeting Transgender Women?
Honestly – probably not. The app does have many options for transgender people to register, and so is trying to be inclusive. Until the app is safe for trans singles to use, though, and netter security settings are put in place, the number of spam accounts makes it a dating app unsuitable for anybody who is vulnerable or will be upset by malicious messages.
Is a Tinder account protected?
There isn't much protection, so we are reluctant to recommend it as a suitable app for TG dating. Your details and messages are private and secure, but there is nothing to stop a bot or a fake person from messaging you.
Is it Worth Paying for Tinder.com?
If you are a heterosexual single under the age of 28 – yes, probably! For other people, probably not. Have a look at our Best Sites recommendations for our suggestions.

Tinder.com