Our In-Depth Taimi Review Is Here at Your Finger Tips

Taimi is not famous for no reason. Ranked 4.4 out of 5, Taimi has been taking the world by storm as a modern and advanced dating app for the LGBTQ+ community worldwide. If you're a beginner, it's time to arm yourself up with a full insight into what Taimi has to offer.
Our expert team went under its belly to provide the latest updates before you get started. Here's everything you need to know about pricing plans, ease of use, design, safety, members, and privacy policy.
Members
Known as the first fully inclusive dating app catered to the LGBTQ+ community around the world, Taimi is favored by over 8 million users. It offers a safe and secure dating experience for trans, non-binary, gender-fluid, gays, lesbians, and all queers alike.
Sign-up and Login Process
You have 4 options to choose from:
Log-in with Facebook
Log-in with Snapchat
Log-in with Google
Sign-up with email
Then you are asked to turn on location on the phone before using the app. Log-in and sign-up process are very responsive, handy, and fast.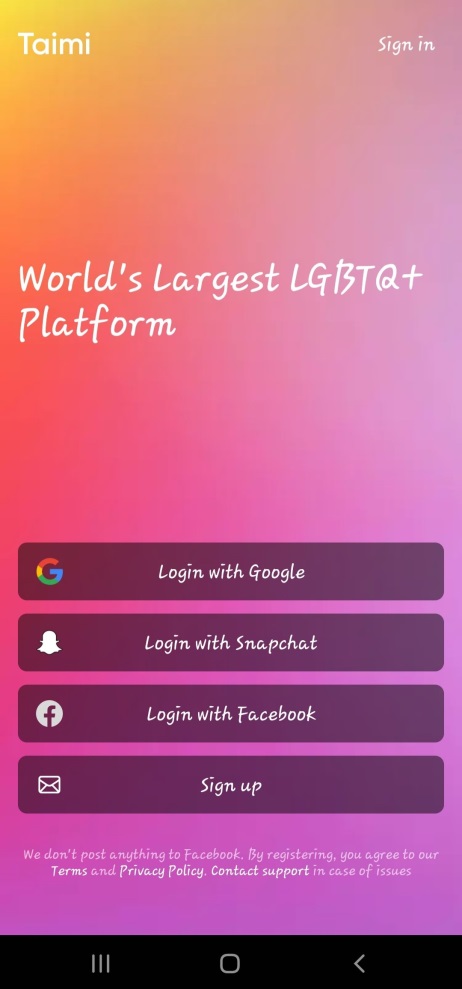 Free Account on Taimi
All members are access to the Taimi app for free. Free users can:
Complete their profiles
Use search functions to filter matches
Send and receive messages
Join live streams
Go live
View members' profiles
Like, comment, and share people's newsfeed
Update your newsfeed
Swipe left and right on other members
Create a post, group, and story
Live support
Profile Quality
Profile quality developed by Taimi is modern, clean, and handy.
Many different functions are developed for the young community, such as connecting to your Instagram and Facebook account.
You can choose to show or hide your age.
Zodiac, birthday and introduction are also available.
Snapchat, Twitter, Tiktok, and Switch are also available.
You can preview your complete profile at the end to see how it's displayed to other users.
Search
You can search for more partners using Spot search by inputting a certain city or country.
Set your distance up to 322 kilometers.
Set your preferred partner's genders (Non-binary – Intersex – Trans female – Trans male – Female – Male).
Extra preferences (Top – Bottom – Switch – Asexual).
Age range (from 18 to 79).
Some of the functions are limited to free users.
Once all of your preferences are set, click on the "Apply Filters" button at the bottom of the screen, and you're on the merry way!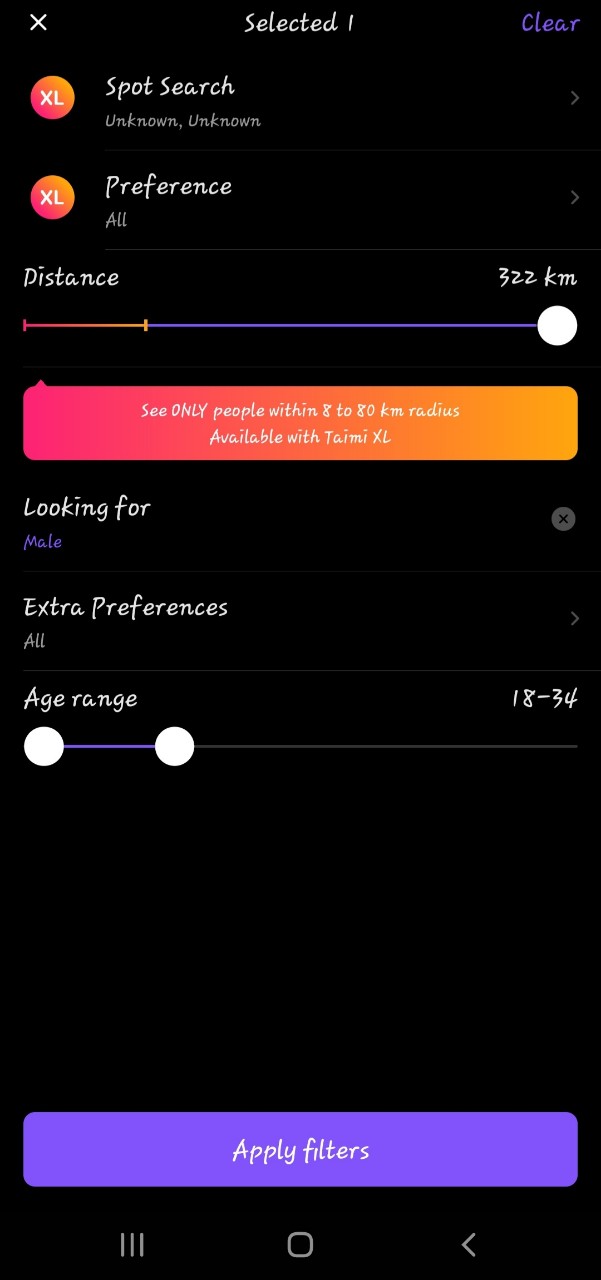 Safety
There are no fake profiles on Taimi.
The Taimi Community Rules is also a big part of the Terms of Service, which doesn't allow underage users, abuse, harassment, bullying, violence, and harm amongst all users.
Pornographic and explicit content is prohibited.
Discrimination based on race, color, sex, language, religion, and opinion is banned.
All forms of illegal content, catfishing, and spam are not allowed.
All of these rules are officially written and must be agreed upon by all users when signing up for Taimi.
Design
Taimi dating app for LGBTQ+ is well-developed with thoughtful benefits to smoothen your dating experience.
The design is clean, neat, and responsive.
Taimi successfully integrated the best features from different social apps and put them together.
You can experience a bit of newsfeed, story, live streams, messages, and post all in one handy app.
Search functions are also well instructed.
Prices and Costs
There are 3 pricing plans for you to choose from:
Monthly: $14.99
Weekly: $4.99 (7-day trial available)
Yearly: $71.99
Customer Service
Taimi live support is available for all users, both free and upgraded members.
You can chat to the live customer service anytime by accessing the message function from the menu toolbar.
Frequently asked questions are available in button form. All you need to do is clicking on the right topic you need help with.
Otherwise, you can search for more questions using the support function on the web browser.
Pitfalls
There's no difficulty we've experienced regarding the customer service.
The only thing that's not available on the customer service is the hotline, but it's no biggies since the live support also comes in handy and available whenever you need it.
Expert's Conclusion
We highly recommend Taimi as one of our favorite dating apps for all queers in the LGBTQ+ community.
You can download it from App Store and Google Play.
The pricing plans are diverse and reasonable.
Privacy policy, terms, and conditions are well informed.
Safety also comes into play as a key factor where you are 100% protected from Taimi developers and customer service whenever you spot harassment or experience an unwanted situation.
Taimi doesn't allow scams and con-artists. All users must provide their authentic identities to use the app.
Taimi is a modern and handy app that integrates many fun features such as live streams, stories, posts, a news feed, and many more.
If you want to show your identity, you can choose to link with other social accounts such as Twitter, Instagram, Snapchat, and Tiktok.
Pros and Cons
Pros:
Available on iOS and Android
Free users are accessible to many functions
Reasonable pricing plans
Live customer service is available
Safety is enhanced
Responsive and well-designed interface
People's news feed is updated
Cons:
Unavailable for web browsers
No hotline available
FAQ
How Can You Verify Your Accounts on Taimi?
You can verify your account just by clicking on the VERIFY button sent by Taimi via email.
How Can You Block and Unblock Someone on Taimi?
You can block someone from your live streams just by clicking on "Report and kick user" from the pop-up menu.
To block or report an account, go to their profile and click on the 3 dots in the upper right corner of their profiles.
CTA – No more waiting! Pick up your phone and download Taimi for free today!

Taimi