An Insightful Grindr Review Is Here

Since its debut in 2009, Grindr has grown into the world's largest and most recognized networking app for the LGBTQ+ community. As part of the rainbow world. Grindr has earned a lot of respect when it comes to the best tranny dating sites. Known to represent a modern and safe LGBTQ+ lifestyle, Grindr has evolved into a new and advanced social networking platform. Intending to pave innovative paths for a better meaningful impact for the queer community, Grindr is a secure and enjoyable dating site where you can explore, navigate, send a message and meet up with civilized folks.
Members
Reaching millions of daily users, Grindr uses location-based technology to bring you closer to your potential matches. Present in almost every country across the planet, Grindr is a common ground where the trans, gays, bi, and queers alike meet up for a new love journey.
Sign-up and Login Process
Sign up using your:
Google account
Email
Phone number
Facebook
Then you are required to create a password and turn on your location before accessing the Grindr app. If you choose to log in using the Facebook account, a notification will be sent to you via Facebook informing you about your recent login activity.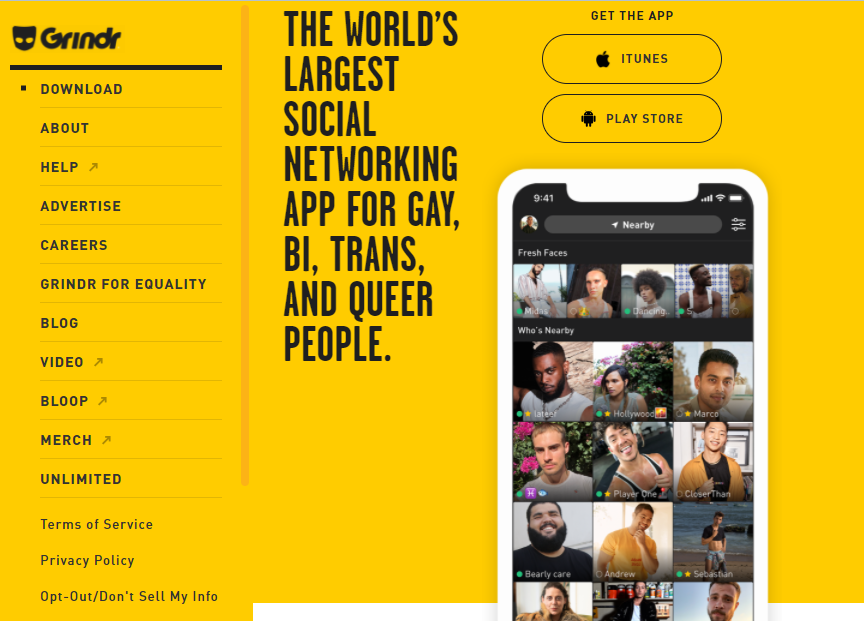 Free Account on Grindr
All members are access to the Grindr app for free. Free users can:
Creating a profile
View photos of other users
Switch to Incognito
Find matches nearby
Send messages to other people
Send a fire
Add to favorites
Profile Quality
Profile quality developed by Grindr is modern, comprehensive, and sufficient.
You can upload multiple pictures
Write your description in the About Me section
Choose your screen name
Set your age (you can also switch between VISIBLE or INVISIBLE)
Height
Weight
Ethnicity
Body type
Position
Tribes
Relationship status
Types of relationships you're looking for
Meet at
Accept NSFW pics
Gender
Pronouns
HIV status
Last tested time
Social accounts
Search
You can filter out search results by clicking on the dropdown menu. Over here, you will see both Basic Filters and Advanced Filters.
Basic Filters include:
Advanced Filters include:
Online Now
Photos Only
Face Photos Only
Haven't Chatted Today
Weight
Height
Body Type
Position
Relationship Status
Meet at
Accept NDFW pics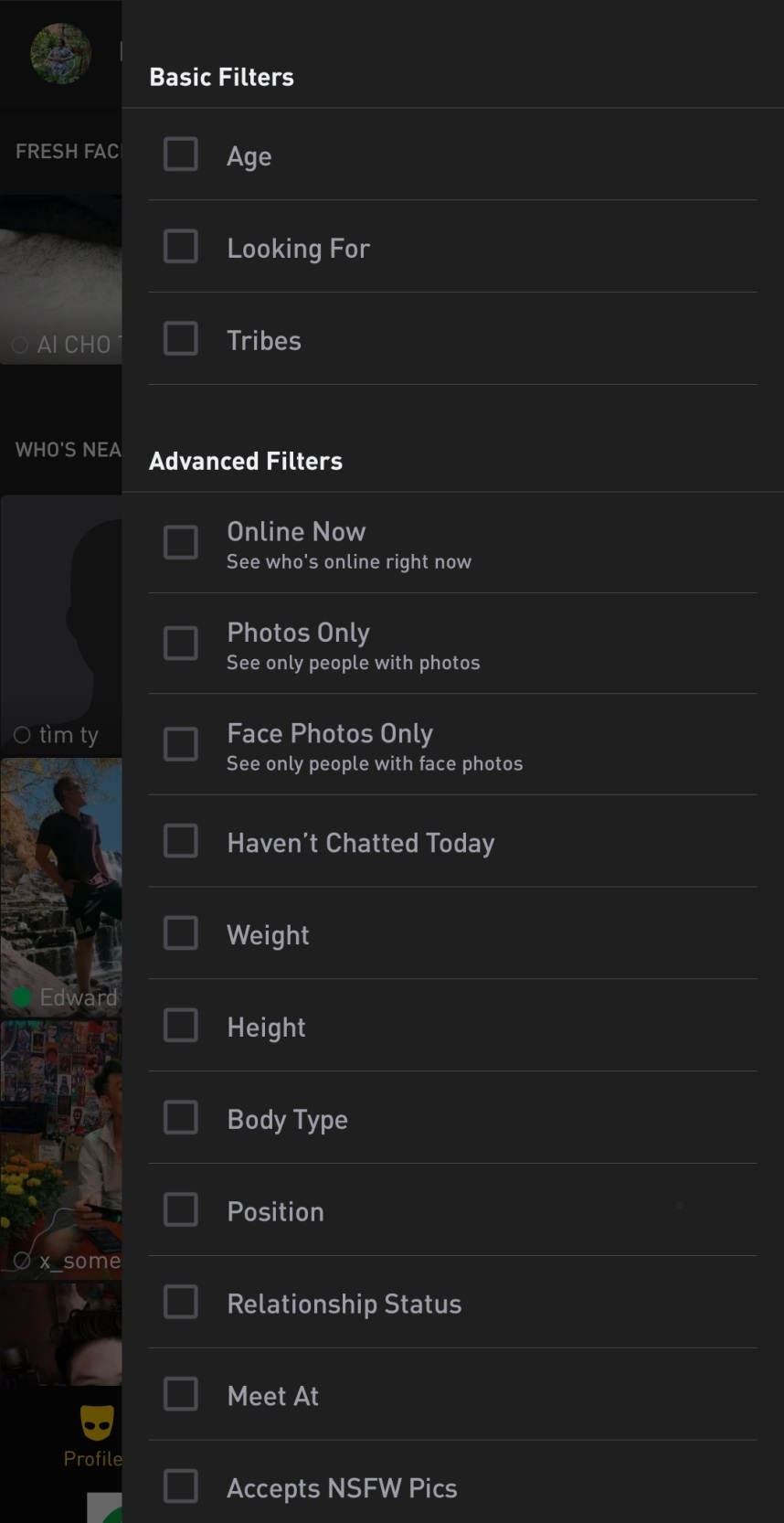 Safety
Grindr develops a handy and insightful community guideline to provide you a safe dating environment.
Dishonest, abusive, and aggressive attitudes will get banned.
Community guidelines are handy and well-instructed to enhance your safety and behaviors amongst all users.
Grindr holistic security guide is available to ensure a safe experience.
You are protected from cyber-attacks if you comply with the community and holistic guidelines.
Don't post pictures with identifiable features.
Safe dating tips are perfectly composed to protect your identity, secure your account, and much other essential advice.
If you spot any scams or misbehaviors, you can report to Grindr that they violate the policies or terms of service.
Design
Grindr dating app for the transsexual community is well-developed with both basic functions and advanced functions.
The design is clean, neat, and responsive.
The app is always updated to catch up with the evolving trends, especially to target the young generation.
Social network accounts are available.
Search functions are also well instructed.
A web browser is responsive, modern, and clean, even though it's only for extra information, stories, and contacts.
The user interface is easy to navigate.
Prices and Costs
There are two packages you can choose from. Each package comprises 3 options.
EXTRA:
$14.13/month
$30.29/3 months
$73.67/a year
UNLIMITED:
$40/month
$60.49/3 months
$172.9/a year
Customer Service
Grindr support is available for all users via mobile app and web browsers.
You can send your message and feedback by clicking on the right function from the dropdown menu toolbar.
Frequently asked questions are available from the Help Center. All you need to do is clicking on the right topic you need help with.
No live support or hotline available.
Pitfalls
There's no difficulty we've experienced regarding the customer service.
The only thing that's not available on the customer service is the hotline and live support, which may interfere with your dating experience in case of an emergency contact.
Expert's Conclusion
We highly recommend Grindr, especially for the young generation.
You can download the app from Google Play and iOS, which is convenient.
Privacy policy, terms, and conditions are well informed.
A safe dating experience is handy and comprehensive with lots of safety tips.
Scammers and fake profiles are not allowed, and all members are 100% protected.
Pros and Cons
Here are some pros and cons we discovered after using Grindr for a while. Let's take a look!
Pros:
All members can create an account for free
Safe dating tips are available and comprehensive to ensure your protection
Responsive
Easy to navigate
Well-guided registration
Available on both iOS and Android
Cons:
No hotline available
No live support chat available
Ads for free users
Free users are limited to some basic functions
FAQ
How Can You Verify Your Accounts on Grindr?
To verify your identity, fill in the form via the website and follow these instructions:
Send a selfie of your holding paper with the email address associated with your Grindr account. This is applied to those creating their accounts via email.
Send a selfie of you holding a paper with the Device ID associated if you create an account via Apple or Google.
Send an image of an official government ID with your name and photo visible if you have an account without profile photos.
How Can You Block and Unblock Someone on Grindr?
You can block someone by visiting their profile, click on the BLOCK button on the top right corner of the app, choose BLOCK or REPORT, and hit YES.
To unblock someone, go to your profile setting where you see a list of blocked accounts, then simply click on the user you wish to unblock.
CTA – No more waiting! Download Grindr now and try Grindr for free!

Grindr